Best Mosquito Control
Honor Services is the most-reputable, and most-trusted pest control company serving Melbourne, FL and surrounding areas!
Get Your Free Quote Today!
Looking to get rid of mosquitoes so you can finally enjoy the outdoors?
We have the latest technology in mosquito control that the EPA and World Health Organization have endorsed as an eco-friendly and safe solution around humans, our pets, and beneficial insects such as bees!
About Mosquitos & Diseases
Mosquitoes are not only bothersome, they carry viruses' such as Zika and the West Nile virus. Zika is spread mostly by the bite of an infected Aedes species mosquito (Ae. aegypti and Ae. albopictus). These mosquitoes bite during the day and night. When West Nile Virus infects,  about 1 in 5 people who are infected develop a fever with other symptoms such as headache, body aches, joint pains, vomiting, diarrhea, or rash. Read more about mosquitos from the CDC. 
Mosquitoes can also transmit several diseases and parasites that dogs and horses are also very susceptible to. For example, Heartworm disease in dogs and Eastern Equine Encephalitis in horses.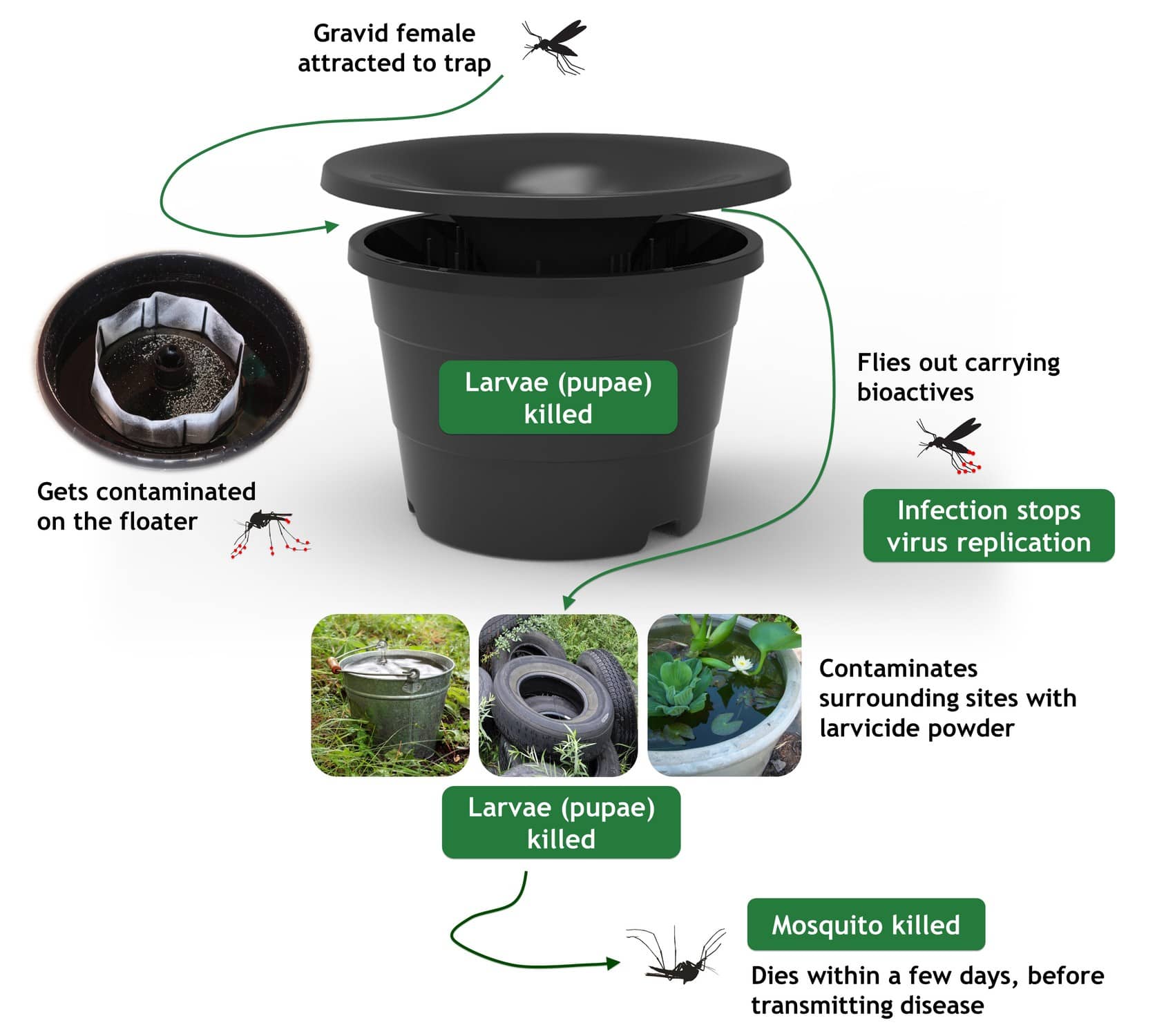 Your Options For Treatment
How We Treat For Mosquitos
Our system targets female mosquitoes and their larvae by infecting them with a fungicide when they visit our traps to lay eggs. Females then disseminate the larvicide to every subsequent body of water she visits, infecting each body of water and the larvae it contains before she dies.  She literally helps us do our work!
Our eco-friendly mosquito control solution means no more fogging or dangerous chemicals that can pose harm to you, your pets, or the environment. Our fast-acting traps are placed around your home in areas mosquitoes would find attractive. Our pest pro adds the special fungicide monthly and you get to enjoy the use of your yard with your family worry-free!
To learn more about our mosquito, termite, or our general household pest services, or to schedule a no-obligation consult from one of our pest pros, email us a pestpros@honorservices.com or give us a call!
Where We Service
We perform pest control services throughout Brevard County, FL including these major cities: Palm Bay, Melbourne, Viera, Melbourne Beach, Satellite Beach, & Titusville. We can help with your termite treatment needs anywhere in Brevard.
""We're about to close on a home in Viera Fl & were recommended by several people to use Honor Services. John & team conducted a thorough inspection & provided us, the buyer with a heavily detailed report which included photos along with Honor Servies" recomendations on addressing the few minor issues they discovered. We're so pleased with Honor Services' expert work! They are a 1st class home inspection company.""

Frank Antonucci
""I used Honor Services to do a home inspection on a property I was looking to purchase. They were thorough, professional, and punctual. I will always use them. They also did all three inspections (home inspection, wind mitigation, and WDO), which made it convenient and the cost was competitive. I will undeniably use them again, and I completely recommend them to everyone.""

Ian Batchelor
""We had water coming in through the house that left mold on the carpet. We called Honor Services and Michelle sent John out right away! John and Michelle are professional, caring and honest people. He didn't try to sell us on anything and told us the best and easiest way to fix the issue. Will use again and again and highly recommend to anyone!""

Kara Turey
""Very impressed with them. I am a retired home inspector from Indiana. They were never informed of this. I observed closely at everything they check and never had to ask for anything else. They checked everything and were very thorough. They gave information on everything. I would recommend to family and friends.""

Gail Brown
Get a Free Quote Today
Discounts for our First Responders, Military, and Educators