Best Rodent Control Near You
Honor Services is the most-reputable, and most-trusted pest control company serving Melbourne, FL and surrounding areas!
Get Your Free Quote Today!
Rodents are worrisome and a common frustration here in Florida.
Honors' Pest Professionals can help!
We perform an inspection of your home to determine all of the access points and any conducive conditions that are encouraging the rodents to visit your home.
After the inspection, we provide a proposal of services to include any exclusion work necessary in addition to suggestions on how you may help the efficacy of our work such as removing potential targets such as dog food in a garage or trimming back the trees from your home.
After exclusion work has been completed we will set traps and follow up every other day to check them and to remove any dead rodents. This process can be short or it can take several weeks. Especially if you have a particularly crafty rodent that knows what the traps are. Rats are smart and will avoid the traps if they are familiar with them.
Did You Know
Interesting Facts
A Mouse only needs ¼ inch wiggle room to make its way into a space! A rat only needs ½ inch of space to gain access to an opening!
The most common place we will find rodents is in the attic of your home. It is warm, dark and a safe abode from predators like raccoons.
If you have a tile roof, missing soffit, or tall trees around or touching your home, you can almost guarantee that you will have a rodent problem at some point or another.
Once rodents gain access to your home they will wreak all kinds of havoc by urinating on the insulation, gnawing on the wires, and multiplying rapidly to the tune of a dozen babies every three to four weeks! Oh My!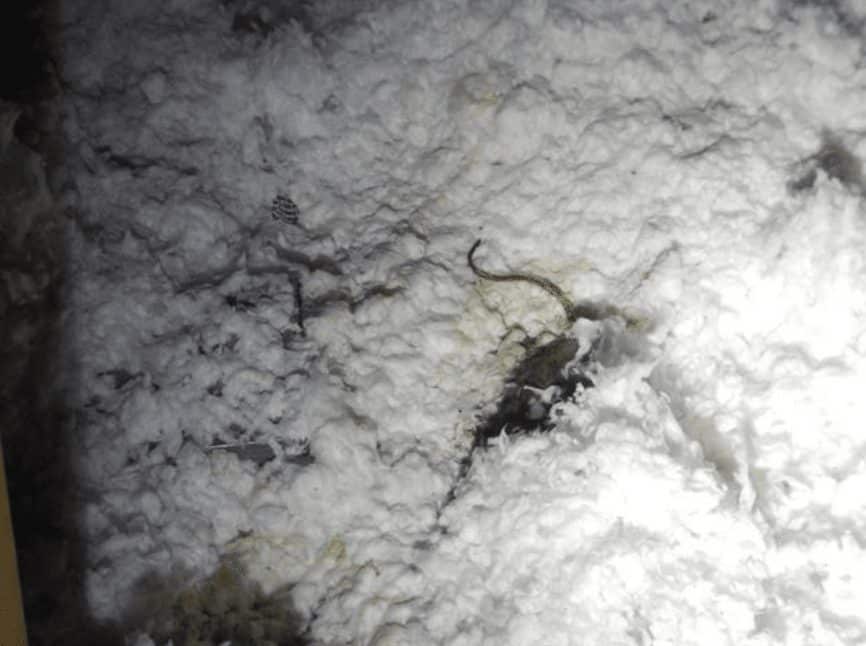 Your Options For Treatment
Honor Services Can Help
The image to the left showcases small opening rodents could enter to get into your attic.
You can trust the professionals at Honor Services to be responsive and creative as necessary to rid your home of these disease-carrying pests. Give us a call or email our PestPros@HonorServices to schedule your inspection and quote for services.
Where We Service
We perform pest control services throughout Brevard County, FL including these major cities: Palm Bay, Melbourne, Viera, Melbourne Beach, Satellite Beach, & Titusville. We can help with your termite treatment needs anywhere in Brevard.
""We're about to close on a home in Viera Fl & were recommended by several people to use Honor Services. John & team conducted a thorough inspection & provided us, the buyer with a heavily detailed report which included photos along with Honor Servies" recomendations on addressing the few minor issues they discovered. We're so pleased with Honor Services' expert work! They are a 1st class home inspection company.""

Frank Antonucci
""I used Honor Services to do a home inspection on a property I was looking to purchase. They were thorough, professional, and punctual. I will always use them. They also did all three inspections (home inspection, wind mitigation, and WDO), which made it convenient and the cost was competitive. I will undeniably use them again, and I completely recommend them to everyone.""

Ian Batchelor
""We had water coming in through the house that left mold on the carpet. We called Honor Services and Michelle sent John out right away! John and Michelle are professional, caring and honest people. He didn't try to sell us on anything and told us the best and easiest way to fix the issue. Will use again and again and highly recommend to anyone!""

Kara Turey
""Very impressed with them. I am a retired home inspector from Indiana. They were never informed of this. I observed closely at everything they check and never had to ask for anything else. They checked everything and were very thorough. They gave information on everything. I would recommend to family and friends.""

Gail Brown
Get a Free Quote Today
Discounts for our First Responders, Military, and Educators